At home, AlpinJiro.
TAKEOUT MENU
AlpinJiro has begun offering take-out at its main store.
You can also take out the side menu.
【Business hours / Phone】
LUNCH 11:00~15:00(LO 14:30) / DINNER 17:00~20:00(LO 19:30)
TEL:045-261-4307

TAKEOUT MENU
※You'll receive it in a take-out package.

Motomachi store limited Alpin Burger
Alpenjiro Motomachi store has started selling takeout of Alpine fish burger.
ALPIN FISH BURGER / ¥600
Sandwich with fried white fish and original tartar sauce flavored with alpenji low curry.
A fish burger that is very satisfying for both breakfast and lunch takeaway.
[Sales time]
7:00~10:00
Infection Control at AlpinJiro
AlpinJiro Giraud is taking measures to prevent infections in accordance with the following "Countermeasures to Prevent Infection".
From the steak curry specialty store "Alpen Jiro", with gratitude to medical institutions. We will deliver "curry bento" for a total of 500 meals free of charge.
At "Alpen Jiro", we are making efforts to deliver a special curry bento box free of charge to medical institutions centering on Yokohama that respond to new coronavirus infectious diseases.
This initiative is provided to health-care workers who are fighting at the forefront to control the spread of new coronavirus infection, in the hope that they will be energized through a delicious meal.

For the first time, we provided 80 meals to Yokohama Rosai Hospital in Shin Yokohama on May 14th.
"I am grateful to have delicious curry bento while fighting with anxiety and nervousness, and thank you for giving me time to relax after a long time," he said.

It will be delivered to medical institutions mainly in Yokohama in the future.
Now, I would like all the staff to work on what can be done with Alpine Jiro.
In gratitude to the locals.
We delivered curry lunch boxes to children in Yokohama who were closed all at once.
In response to the simultaneous closure of the school to prevent the spread of the new type of coronavirus, Alpenjiro launched a program to provide special curry lunches to schoolchildren's facilities in Yokohama and nearby elementary schools free of charge for a limited time.did!
This initiative aims to reduce the burden on working moms as much as possible, and we want to do what we can do now.
First, on March 25, 2020, 100 meals were delivered to "Children who attend Noba Suzukake Elementary School and Shimonoiwa Elementary School in Konan Ward, Yokohama".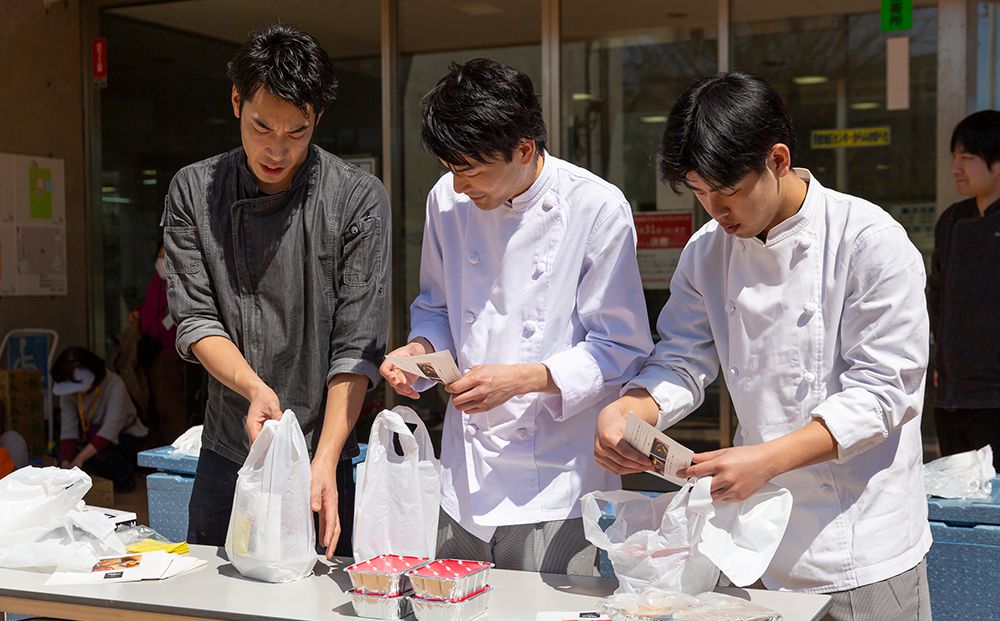 There was a child who said, "I cook rice myself at home," and it was impressive to see her happily take her home with "Enjoy eating!"
The next facility we visited on March 26 was the school childcare bamboo shoot club in Hodogaya Ward. We have delivered carefully curry lunches!
There are many working moms, and children during the day are spending time in school facilities. Thank you because I have to make a lunch box from my mom who happens to be off that day! The voice that said.
Some of the children, such as "delicious", "never eaten!", "Vegetables are sweet!"
This time, soup curry made of gluten-free sweetened smooth so that children can enjoy it specially!The staff was able to see the smile of everyone who said, "I've been feasted," right in front of me, and it was a very happy time!
After that, delivery to 6 facilities has been decided.Opened in Yokohama, this long-established curry shop is celebrating its 35th anniversary this year.With appreciation for the many people living in Yokohama coming, I would like to work on all the things I can do now.
HISTORY
ALPIN JIRO
The smell of fragrant curry drifts to the outside of the store from within the shop that imagined the mountain hut.
ALPIN JIRO.
In 1971, the history of accommodation lodges "ALPIN JIRO" that began at the ski resort of Ozase Tokura has evolved into a curry store that emits its unique presence in Yokohama.
Sour sale curry which does not use any flour at all is a different thing from soup style curry which is famous in Hokkaido.
The basic of the deep rich curry spreading fully in the mouth is Indian cuisine using 14 kinds of spices.
Adding secret soup stock there, continuing the work which is said to be hibernation for two days on a couple of days in stew for several days.
Finally a distinctive roundness and umami with a corner are born.
In addition, it is not an exaggeration to say that it is a meat dish, and baked large block meat luxuriously with iron plate and add it to curry as hot.
Koshihikari of Sugiyama Farm which rice was chosen.
When entangled with the soup, the rice which was cooked exquisitely so that it becomes exactly the amount of moisture in the mouth is exchanged on a flat dish which was warmed from the rice cooker using the camp.
At that moment, I feel like I was excited about going on an adventure somewhere on the mountain.
Pickiness is chosen by the height of the mountain. This is a style that does not change from the beginning of opening.
Try and error, add it, add it back and repeat drawing, and finally the taste of a miracle that was born in a shocking manner as if it had come down from heaven.
Today, many people visit not only Yokohama but also all over Japan and all over the world seeking this unique taste.
"ALPIN JIRO"
You are welcome to taste the miracle.
MENU
FLAGSHIP MENU
Original steak curry, variation curry and other dishes are prepared for dinner time.
MOTOMACHI MENU
We prepare original menu so that you can easily taste the popular curry at the head office.
There is also a takeout menu.
ACCESS
FLAGSHIP SHOP
1985 Renewal opening of the head office that opened in this place in April 2017.
We will utilize the familiar interior such as the counter seat surrounding the iron plate, the beam of the ceiling of the mountain-like style style, the lamp lighting, the chair, the table, and so on, and will continue to disseminate the world of the new alpine gilo.
FLAGSHIP SHOP
3-26, YAYOI-CHO, NAKA-KU, YOKOHAMA, JAPAN 231-0058
TEL:045-261-4307
LUNCH 11:00-15:00 (LO 14:30)
DINNER 17:00-20:00 (LO 19:30)
Closed Monday (In the case of Mondays and Public Holiday, next Tuesday break)

MOTOMACHI
If you could taste the taste of curry at that head office more easily .... In response to the expectations of many fans, the Motomachi branch of that alpine giro opened. Please use the new Brother store.
MOTOMACHI
100, YAMASHITA-CHO, NAKA-KU, YOKOHAMA, JAPAN 231-0023
TEL:045-212-1880
MORNING: 7:00-10:00
LUNCH: 11:30-16:30 (LO 16:00)
Closed Monday (In the case of Mondays and Public Holiday, next Tuesday break)

FLAGSHIP SHOP
3-26, YAYOI-CHO, NAKA-KU, YOKOHAMA, JAPAN 231-0058
TEL:045-261-4307
MOTOMACHI
100, YAMASHITA-CHO, NAKA-KU, YOKOHAMA, JAPAN 231-0023
TEL:045-212-1880